2018 Honda Pilot
New 2018 Honda Pilot EX-L | AWD | CVT Automatic
Honda Pilot Exterior Features


Exterior Appearance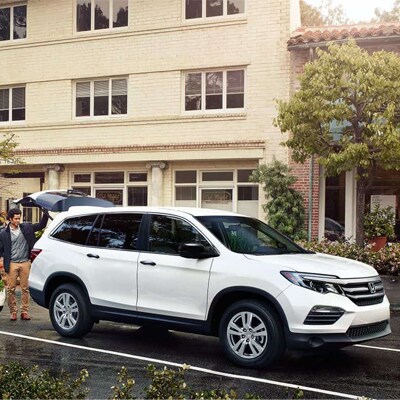 A Look that's Modern and Stylish
The outside of our 2017 Honda Pilot is stylish, sophisticated, and sporty, all at the same time. It's large enough for three rows, but doesn't have the exterior appearance of one of those hard-to-manage behemoth SUVs.
Headlight & Grille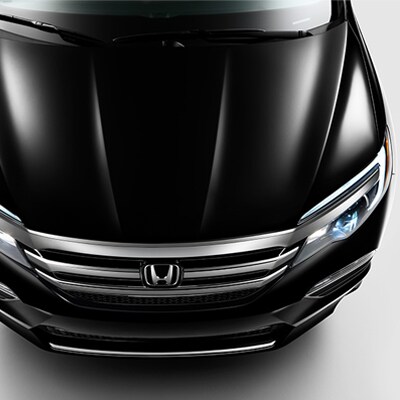 Eye-Catching Exterior Features
The 2017 Honda Pilot has an eye-catching frontend design that includes a chrome grille with three bars that transition smoothly into the headlight design, creating the appearance of one cohesive look instead of several independent elements.
Fluid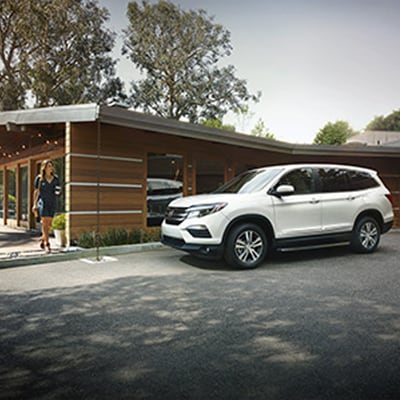 Design that's Dressed to Impress
The 2017 Honda Pilot doesn't make any compromises when it comes to standard and available features. Where the Honda Pilot of previous model years had a distinctive boxy feel to it, the 2017 Honda Pilot is all smooth lines and fluid design.

Honda Pilot Interior Features


Storage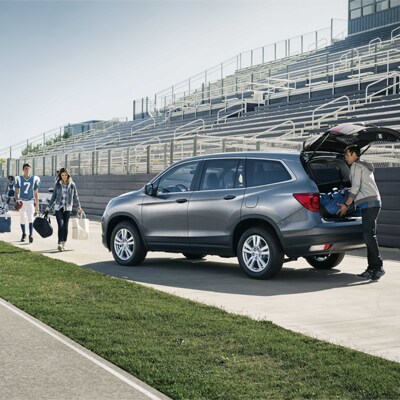 A Family Vehicle that Puts Amenities First

Sure, the 2017 Honda Pilot clearly has an advantage when it comes to toting your larger items of cargo, thanks to its cavernous interior. But, it can also accommodate a lot of smaller items throughout the cabin, including several cups and drinks for the entire family. Because nothing's worse than not having enough drink holders for everyone in the car.
Climate Control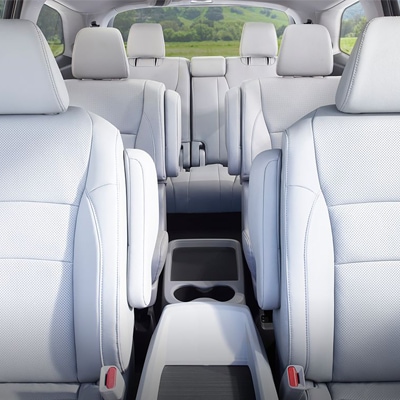 Surround Yourself with First Class Features

Depending on which trim level you choose, your 2017 Honda Pilot could come with multiple-zone climate control. Why should the front seat passengers get to keep all the air conditioning and heating to themselves? Convenient multi-zone climate control will help even the smallest members of the family way back in the third row take advantage of climate control.
Honda of Great Falls
Here at Honda of Great Falls, we're proud to be your local home for all the highest-quality, reliable Honda cars, trucks, and SUVs available. Whether you're in the market for a current model year Honda, or a pre-owned vehicle, Honda of Great Falls can help. Our lots are stocked with a huge selection of both brand new and pre-owned models, and there's sure to be something here to satisfy even the pickiest Great Falls driver. At Honda of Great Falls, we also pride ourselves on providing a full-service dealership that can help you throughout the entire car-buying and ownership process. From expert sales to professional auto financing guidance, we're here to give you accurate advice and help you navigate the sometimes tricky world of buying or leasing a new car. Plus, with the trained and certified maintenance technicians in our service center, we aim to keep our relationship with you going long after you've driven off the lot in your new car. Our service center can get you in and out and back on the road quickly, and our professional service that keeps your car running like new for a long time. Ready to see the difference Honda of Great Falls can make for you? Stop by and visit us soon and see for yourself what happens when you combine excellent selection, stellar customer service, and expert service.