2018 Honda Fit
New 2018 Honda Fit Sport Hatchback | AWD | CVT Automatic
2018 Honda Fit Exterior Features


Size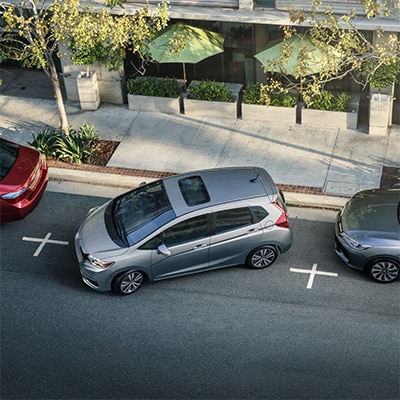 A Look Unlike Anything Else on the Road
It goes without saying that the 2018 Honda Fit is a petite car. But, what this means for you as a driver is ease of use. The small stature of the 2018 Honda Fit means it's not only easy to negotiate on crowded streets and in traffic, but it's also a breeze to park and will fit into even the smallest of parking spaces.
Insulation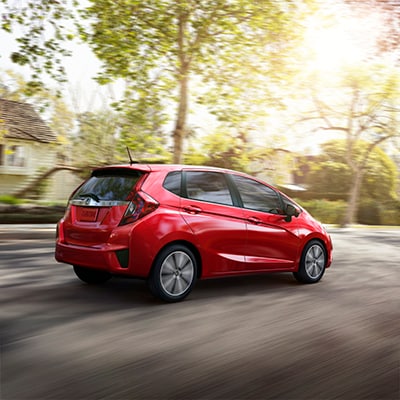 A Hatchback that's Smoother than Ever
For 2018, this car has received upgraded insulation throughout. This design element means that your ride inside the 2018 Honda Fit will be quieter and smoother than ever.
Liftgate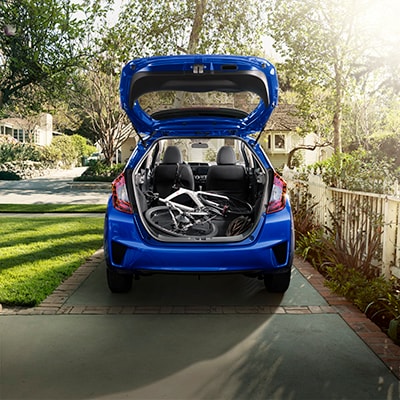 Designed for Maximum Cargo Space
As we'll discuss further under interior elements, the 2018 Honda Fit can hold more cargo than you would think at first glance, thanks to a versatile setup inside the car. But, loading and unloading your gear into the flexible cargo hold is made easier thanks to the wide liftgate door on the rear of the 2018 Honda Fit. The opening allows objects, even larger objects, into the car with ease.
2018 Honda Fit Interior Features


Cargo Space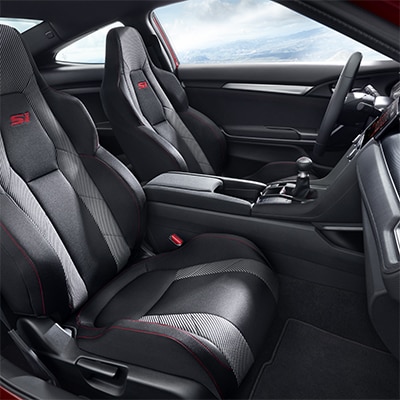 A Large Cabin for Extra Comfort

You're probably thinking such a small car wouldn't be able to hold much stuff, but you'd be mistaken. The rear seats of the 2018 Honda Fit hold a couple of secrets to expand the cargo space. The first is a standard 60/40 split fold for the backseats, and the second is what Honda calls the "Magic Seat." With this system, the backseats of the 2018 Honda Fit have seat cushions that flip up, giving you more flexibility for what you can store in the backseat area of the vehicle.
Comfort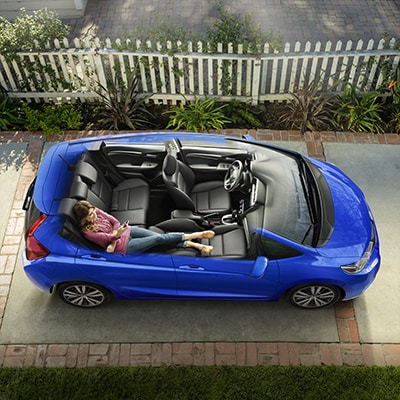 Designed to Put Space at its Forefront
Finding comfort while driving the 2018 Honda Fit is easy, too. Every 2018 Honda Fit model comes with front seats that are adjustable, including a height adjustment for the driver's seat, as well as a tilt-and-telescoping steering wheel.
Honda of Great Falls
Here at Honda of Great Falls, we're proud to be your local home for all the highest-quality, reliable Honda cars, trucks, and SUVs available. Whether you're in the market for a current model year Honda, or a pre-owned vehicle, Honda of Great Falls can help. Our lots are stocked with a huge selection of both brand new and pre-owned models, and there's sure to be something here to satisfy even the pickiest Great Falls driver. At Honda of Great Falls, we also pride ourselves on providing a full-service dealership that can help you throughout the entire car-buying and ownership process. From expert sales to professional auto financing guidance, we're here to give you accurate advice and help you navigate the sometimes tricky world of buying or leasing a new car. Plus, with the trained and certified maintenance technicians in our service center, we aim to keep our relationship with you going long after you've driven off the lot in your new car. Our service center can get you in and out and back on the road quickly, and our professional service that keeps your car running like new for a long time. Ready to see the difference Honda of Great Falls can make for you? Stop by and visit us soon and see for yourself what happens when you combine excellent selection, stellar customer service, and expert service.