2018 Honda CR-V
New 2018 Honda CR-V LX | AWD | CVT Automatic
Honda CR-V Exterior Features


Lighting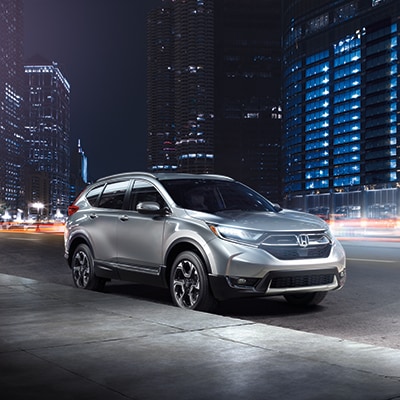 Standard Sophistication
The 2018 Honda CR-V comes standard with LED daytime running lights, LED brake lights, LED taillights, and LED turn signals.
Hands-Free Liftgate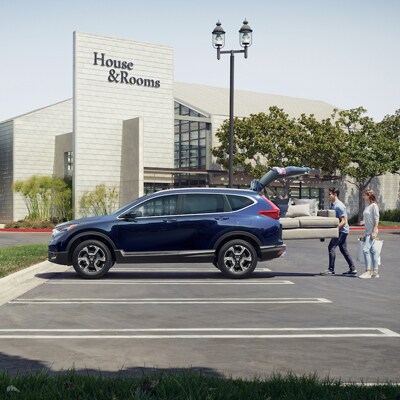 Convenience in one Movement
Hands full of groceries? Can't reach the handle to open the liftgate on your 2018 Honda CR-V? No problem. Depending on which trim level you choose, your 2018 Honda CR-V could come with a hands-free automatic liftgate feature. Just kick your foot under the back bumper of the car, a motion sensor under the bumper will register the movement, and the liftgate will rise up. Whether your exact 2018 Honda CR-V comes with this convenient feature depends on which trim level you choose, so check with our Honda of Great Falls sales team for the most up-to-date information on availability.
Grille System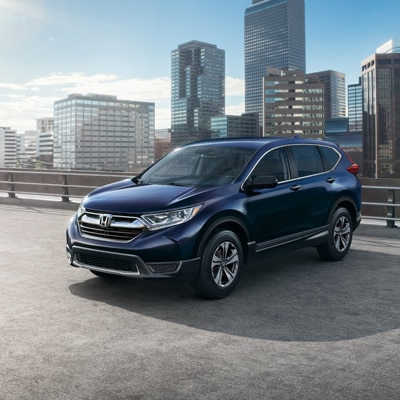 Enjoy a Smoother Ride

The active shutter grille system is a unique feature that isn't just good looking, it also improves the aerodynamics and quality of your ride. Standard on the 2018 Honda CR-V, the active shutter grille system opens and closes automatically, improving the vehicle's aerodynamic drag.
Honda CR-V Interior Features


Driver's Display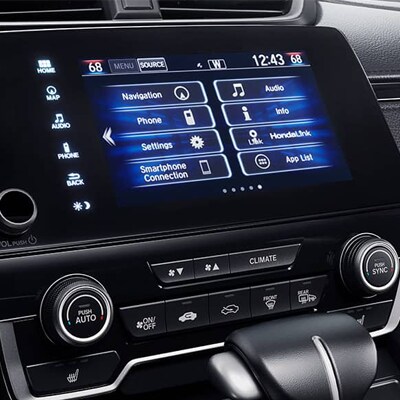 Features that are Unmatched

Redesigned for the 2018, the driver's controls and instrument layout on the 2018 Honda CR-V is brightly lit, easy to see and understand, and simple to operate. All of the vehicle's vital controls are within easy reach and perfectly labelled in a way that makes sense.
Cargo Space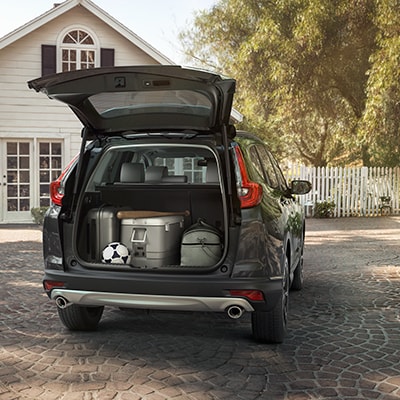 Load up and Hit the Road

The 2018 Honda CR-V looks great, and its convenient size makes it easy to park and ride, but, there's more than meets the eye on the inside. The 2018 Honda CR-V has an impressive amount of cargo storage in the trunk area. Viewing a 2018 Honda CR-V from the outside, one wouldn't expect the cargo storage to be quite so cavernous, but, this model does not disappoint when it comes to toting your suitcases, groceries, and other gear.
Honda of Great Falls
Here at Honda of Great Falls, we're proud to be your local home for all the highest-quality, reliable Honda cars, trucks, and SUVs available. Whether you're in the market for a current model year Honda, or a pre-owned vehicle, Honda of Great Falls can help. Our lots are stocked with a huge selection of both brand new and pre-owned models, and there's sure to be something here to satisfy even the pickiest Great Falls driver. At Honda of Great Falls, we also pride ourselves on providing a full-service dealership that can help you throughout the entire car-buying and ownership process. From expert sales to professional auto financing guidance, we're here to give you accurate advice and help you navigate the sometimes tricky world of buying or leasing a new car. Plus, with the trained and certified maintenance technicians in our service center, we aim to keep our relationship with you going long after you've driven off the lot in your new car. Our service center can get you in and out and back on the road quickly, and our professional service that keeps your car running like new for a long time. Ready to see the difference Honda of Great Falls can make for you? Stop by and visit us soon and see for yourself what happens when you combine excellent selection, stellar customer service, and expert service.